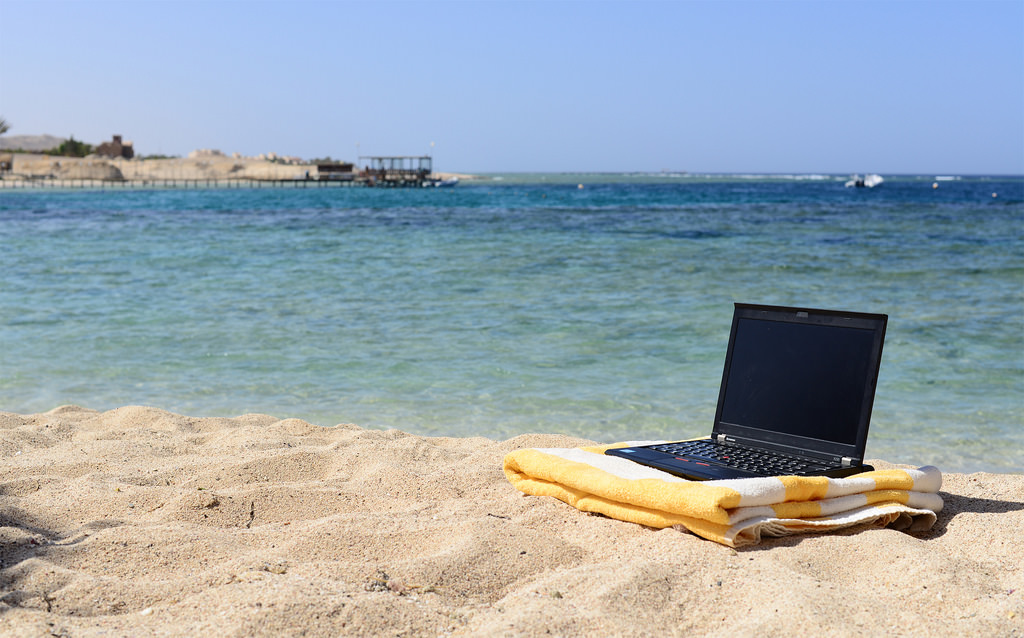 On January 1, 2020, Florida law HB 409 went into effect. This law allows Florida notaries to perform notarizations online. The timing of this law was perfect for the "Sunshine State". Just a month after it took effect, the COVID-19 pandemic swept the United States, causing the need for social distancing and a reduction in unnecessary face-to-face interactions.
If you're already a practicing notary, or considering becoming one, you should investigate online notarization. Many brick-and-mortar notaries have experienced a drop in in-person business since the beginning of the pandemic. Moving part of your notarization business online could not only bring back customers, but expand your practice to a whole new client-base. If you're considering becoming a notary, adopting online notarizations will allow you to supplement your income from the comfort of your own home.
Let's explore the process for becoming an online Notary in Florida.
1. Become a Traditional Notary, Civil Law Notary, or Commissioner of Deeds
The Florida state department website contains the complete, detailed instructions for becoming a traditional notary, civil law notary, or commissioner of deeds. Below is a short explanation of the steps in the process.
Take the required notary education course. Florida offers a free course that meets all of the requirements and also provides a list of alternate approved vendors. If you are renewing your notary commission, you don't need to complete education with each renewal, just for the first one.
Contact an approved bonding agency. A bonding agency provides you with a "surety bond". "Surety bond" sounds fancy, but it's just an insurance policy that protects the public from mistakes made by a notary. In Florida, the bonding agency provides you with your notary seal and application, and receives your state fee. Florida provides a list of approved bonding agencies, and it's worth shopping around. The state fees are set by law, but the bond premium and charge for your notary seal vary between companies.
Complete and submit the application through your bonding agency. The primary requirements for becoming a notary in Florida, besides the above listed steps, are that you are 18 years of age without a criminal record. The bonding agency will provide you with the application, and you will submit it to them when you're done. They will forward your application to the state and let you know when it's approved.
Bond Requirements: It's important to note that, in Florida, the minimum bond requirement to practice as a traditional notary is $7500. However, the minimum bond requirement for online notaries is $25000. If you already have a bond below $25000 and apply to become an online notary, you will need to increase your bond value to $25000.
2. Complete an Online Notary Training Course
Once you've gotten your notary commission, the next step is to complete an online notary training course. The state website provides a list of approved education courses, and the requirements vary between them. Some courses are remote and some in-person, and the cost varies from $20 to $170. The state and all courses require that you pass a final examination to complete the course. Once you've taken the course and passed the exam, the educator will provide you with a certificate that must be submitted with your application.
3. Contract with a Remote Online Notary Platform
It's important to note that this must be done before submitting your application to be an online notary. Florida doesn't provide an approved list of online notary service platforms, but does require that the platform's technology meets the following basic requirements:
Allows the notary to attach or "logically associate" their electronic signature, seal, and notarial certificate with the notarized document.
Provides a means for identity and credential evaluation and confirmation
Provides storage for recordings of the audio and visual technology elements of the notarization
It seems like now is as good of a time as any to point out that LiveNotary does meet all of the requirements as a online notary platform for the state of Florida. They also offer the convenience of flexible hours and the advantage of an expanded client base (more about that later!).
4. APPLY!
Once you've completed the above steps and have reviewed all the necessary rules, regulations, and applicable laws, you're ready to apply to become an online notary! You can view the application here. Make sure you read through the questions carefully and answer truthfully. Be sure to submit the certificate proving that you've completed the necessary education, any required documents to verify your existing commission as a notary, and any additional paperwork based on your specific situation.
The longest part of the process is usually getting your initial, traditional notary commission. Once you apply, the application results will come through relatively quickly and you'll be able to start notarizing online!
One important thing to remember: your online notary certification is linked with your traditional notary certification. Keep track of the dates of your notary commission, your certificate as an online notary will expire on the same date.
Final Thoughts
The application process may seem daunting, but there are many advantages to getting your online notary certificate in Florida.
If you have a brick-and-mortar office, online notarizations can make-up for the decrease you're probably seeing of in-person notarizations. Additionally, notarizing online can allow you to expand your hours and increase your reach as a notary. Online notarization allows you to notarize for individuals outside the state of Florida, instantly giving you access to significantly more clients.
If you're thinking of becoming a notary and practicing online, there are plenty of advantages. Online practice allows convenience and flexibility. You can work from home during hours of your choosing. All you need is the internet and a computer with a microphone and webcam. LiveNotary will provide all of the support you need to start or expand your notarization practice.
So if you're sitting in the Sunshine State and thinking about broadening your horizons, contact LiveNotary or visit our blog to answer your questions about the growing field of online notarization!